Published on August 10, 2022
Click here to view this newsletter as a PDF.
Greetings friends and partners with us,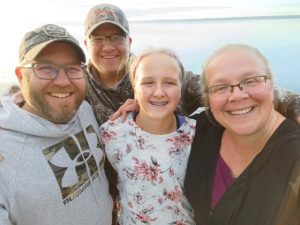 We would like to take a moment to update you on what has been going on in our lives in the past month or so since we accepted the call to go to Romania for a year.
Full-time ministry life has continued to be a big part of our day-to-day. On top of the regular opportunities for ministry, church life has been even more busy for Ian, with meetings and times of prayer regarding the future staffing and life of our local church and how to transition well. It is also camp season, and our family has been blessed with participation in many weeks at a local camp. In addition to attending a week as a camper, Nathan is currently serving at his third week of camp as a counsellor. Kendra is also anticipating her second week of camp and is looking forward to spending it with many of her friends. Even as we write this letter, we are in the midst of preparing for a ten-day youth missions trip to the Northwest Territories in Canada. We will be working with a local church to run a Day Camp and a lunch program. The team will also be leading worship and sharing the Word on the Sunday morning that we are there. It is exciting to wonder what God will do in the lives of the teenagers, as well as in the lives of the people and children they will interact with.
As you can imagine, we have also been busy packing, sorting, and organizing, as well as finding homes for our 'critters.' Our acreage is a lot quieter now, and it is a sign of how close we are to leaving here. Excitement is mounting in our household, although there is obviously a realization that many things in our lives are about to change.
Given that, we have been trying to be intentional in spending time with friends and family. This has been especially important for Karen and Kendra, our extroverts, who have been spending as much extra time as possible with people they love. We have had a rich time of ministry and friendship in our community and are thankful for the relationships that we have. There is also a feeling of thankfulness as we recognize that technology makes it possible to easily stay in touch. Along with that, there is a deep recognition that the opportunity to make new friendships and relationships is dawning, and we are excited to do that soon.