Published on November 08, 2021
Click here to view this newsletter as a PDF.
Twenty Years and More!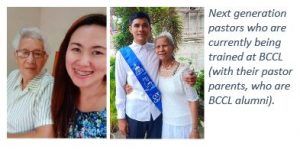 We can't thank God enough for 20 years of ministry! It's been quite a journey joining God in His great desire to equip more servant leaders in the many places that He has brought us.
Over a span of two decades, we have trained a total of 701 students across four provinces in the Bicol region and two provinces in the Visayas. Ninety-six of them have finished the two-year diploma program, and 362 completed the foundational courses. We also thank God for the many visiting teachers He has sent our way, 29 of whom are either pastors, leaders, or seminary teachers of NAB churches and ministries.
As a result of its training ministry, everywhere we turn, we see BCCL's imprints among the ministries and spiritual leaders in the area. The incumbent chairman of the big churches' association in Albay province is a BCCL graduate. A couple of young men who have recently become ordained pastors have been trained by BCCL. Aging pastors who have served for many decades and who are themselves BCCL alumni are now passing the baton of pastoral ministry to their sons and daughters, who are now being trained by BCCL as well.
Some alumni are now teaching at BCCL. All of our full-time staff are alumni; two of them are church planters, and the rest are reliable and effective leaders and outreach workers in their churches. We have also seen countless students decide to go into full-time ministry while receiving training at BCCL; I am one of them. We praise God for BCCL's impact over the ministries in the region, and we pray that it will continue for many years to come with the NAB's faithful partnership and support as a huge help.
A new generation of students can't wait for the new season of classes to start early next year. Angela, a new student, when asked why she was excited to be equipped for ministry at BCCL, said: "My pastor has told me so much about BCCL and its good quality and biblically sound teachings. So here I am, excited to be molded by God at BCCL!" She is a youth leader and a pastor's daughter.
We are excited to join God in this new and evolving season of ministry in the Bicol region and beyond!
Blessed to Be a Blessing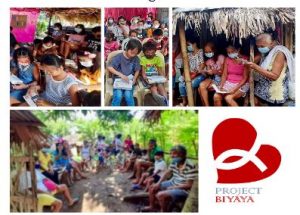 Thanks be to God for His provisions through generous NAB churches and some individuals! Since we started the Project Biyaya ("Blessing") outreach ministry in July, to date we have given out 815 warm meal packs and Gospel tracts to a total of 17 communities within Albay province. Students who have availed of the Project Biyaya meal packages and Gospel tracts are so thankful that they were able to evangelize new communities and start Bible studies in such areas! In God's perfect time, we hope to not just "give a man fish for a day" but also to "teach a man to fish for a lifetime" as well. We are prayerfully developing a holistic outreach ministry program involving backyard and community farming that would lead to community development and spiritual transformation in the areas where our students are planting churches. For this reason, we hope to continually grow our Project Biyaya outreach ministry funds. May the Lord continue to touch more generous hearts to provide for this ministry.
Thankful for Successful Classes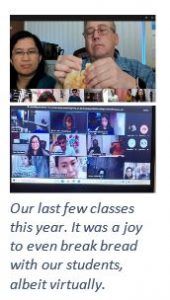 We are so grateful to God for seeing our classes through the constant challenges of the pandemic. We were able to do all but one class that we've scheduled for the year (nine classes). It's interesting that the hybrid online classes allowed the students to interact with the class materials and the teachers in a more intimate way. This is definitely the work of the Holy Spirit.
God also saw us through the many internet glitches where the students would go in and out of the virtual classroom due to finicky internet connection. Brownouts did not deter our students from attending as well. We would see them in candlelight in their homes and using data on their phones, not wanting to miss the classes.
What an amazing journey it has been despite these difficult times. In all these things, we offer nothing but thanksgiving to our gracious and mighty God!
A. Claire Marker, BCCL Director