Published on May 19, 2021
Click here to view this newsletter as a PDF.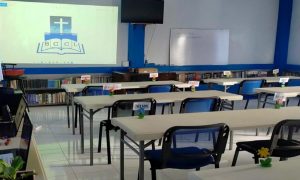 "Take this cup from us Lord . . ." such is the travail of many believers today. This "cup" of tribulation called COVID‑19 has become so bitter that the deaths and desperation, the many losses and frustrations, and the things we can no longer do freely have been so difficult to swallow by so many. And it looks like it's not letting up anytime soon. But Jesus calls us to follow in His example. In His great desperation He first looks to the Father and acknowledges His power and sovereignty when He said, "if you are willing." And then He goes on in humble submission to the Father's will and says, "yet not my will, but yours be done." God can surely put a stop to this pandemic with just a command or a word. He is in full control of the situation and He is accomplishing something through this worldwide crisis. And as difficult as it is, we need to submit to His will and wait this horrible storm out and trust God fully. We've been learning this at BCCL these last few days.
Classes Postponed
Our classes went to a screeching halt when the local government of Legazpi imposed strict home quarantine on all households in the city. This was after the regional Department of Health declared the city as having a high-risk level to COVID‑19 with an average daily attack rate of 1.59 percent and a two-week growth rate of 292 percent (Mayor's Public Advisory, 13 April 2021).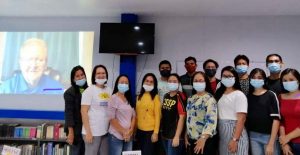 Our classes require students to come to BCCL so that they can at least interact with one another during sessions even if the teacher is not with them. We have been practicing strict COVID safety protocols, but we had to postpone two classes this April to keep our students safe. The staff are likewise staying home until the end of this lockdown, which is, prayerfully, on April 29. This can potentially disrupt our classes in the coming months but "not our will Lord, but yours alone be done." We rest in His perfect timing with regards to our calendar. We are making the most of this time at home by doing vital work: interceding for our communities and the ministry each day.
Classes Accomplished
We continue to praise God for allowing us to finish two additional courses in February and March.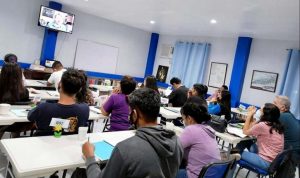 Galatians Class. Our students enjoyed an in-depth study of Paul's epistle to the Galatians last February 8–18. Pastor Steve Anderson from Sioux Falls, South Dakota, patiently recorded 32 sessions on video in record time and enjoyed being with the students, albeit only through video calls at the start of each session. If God wills, he hopes to teach at BCCL every year.
New Testament Survey and Backgrounds. It was my husband Timothy's first time teaching video classes at BCCL. He has taught several courses at BCCL in the last few years and admits that it wasn't easy doing this mode of classes. Nothing beats being with students face-to-face, but this mode of teaching allows a lot of flexibility for make-up classes. Some students had the flu in the middle of the second week and were asked to stay home for everyone's safety. We just scheduled a make-up class the week after the whole course was over. God's will is indeed always the best.
Meet One of Our Students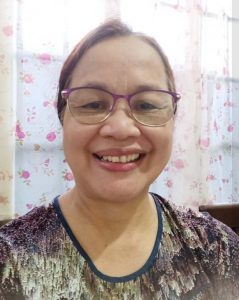 Emilia is the associate pastor and Christian Education Director of an independent church in Daraga, Albay. She found out about BCCL's training program from her husband (the senior pastor of their church), who enjoyed going to the BCCL library to do research and read. He took the CLF course many years back. Emilia is already a graduate of Asian Theological Seminary, but after retiring from public school teaching, she felt the need to be refreshed and decided to enroll at BCCL. "BCCL really refreshed me . . . it reignited my first love for God and His work," she said. Her daughter, Eunice, is currently her classmate at BCCL. Emilia further tells us that she now has a greater desire to equip their church workers as well. Please pray for Emilia and her church.
A. Claire Marker, BCCL Director