Published on March 29, 2022
Click here to view this newsletter as a PDF.
Praises
Successful completion of one semester of French language school
Safe travels and opportunities to connect with family and friends.
We received our Cameroon visas well in advance of our March 28 departure.
Prayer
For wisdom, energy, and efficiency as we prepare to go to Cameroon.
For individuals to join our team at Rain Forest International School (RFIS): teachers, IT network specialist, facilities & technical services director, ELL specialist, administrative support, learning support specialist, academic counselor.
That we will fit into our new roles quickly and be effective team members.
---
Have I not commanded you? Be strong and courageous. Do not be terrified; do not be discouraged, for the Lord your God will be with you wherever you go.
Joshua 1:9 (NIV)
---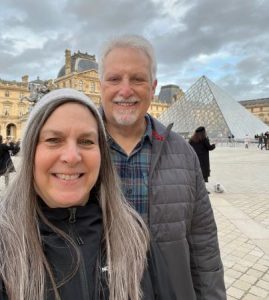 Our days were filled with sound charts, word panels, and French, French, and more French. When we stepped out of school in our neighborhood in Massy, France, we continued our immersion in a new language. What a challenge! What an adventure! We learned so much and loved the opportunity to study with other people from all over the world that were also learning French in preparation to serve as missionaries.
After spending a short time with family and friends, we are not leaving behind a snowy Calgary spring and heading to the beginning of the rainy season in Cameroon. We look forward to using, and further developing, our French language skills in the French-speaking city of Yaoundé. We are eagerly anticipating seeing familiar faces and places but are even more excited about getting into our new roles. Craig will be taking over the position of financial director at Rain Forest International School (RFIS); Maureen will be the RFIS school nurse and will work with Cameroon Baptist Convention Health Services. In the next months, Maureen will also take part in taking over meetings with Calvin Hohn as she will be stepping into the position of NAB's acting field director for Cameroon.
---
Craig & Maureen Moody
MOJOMOODY@GMAIL.COM
NABONMISSION.ORG/MISSIONARIES/CRAIG-AND-MAUREEN-MOODY