Published on August 21, 2020
Click here to view this newsletter as a PDF.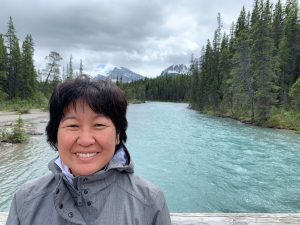 WHEN ARE YOU GOING BACK TO JAPAN?? ANY IDEA? This has been the number one question that I've been asked over and over again by many people. I wish I could give you all a definite answer, but unfortunately I do not have the answer at this time. God knows, however, and I am trusting and waiting for that time when the borders of Japan open up for Canadians to enter the country. With the loosening of restrictions around the world, many countries are dealing with spikes in the number of COVID-19 cases. Recently, Japan has also been experiencing an upsurge of cases, so it does not look like they will be opening the borders quite yet. I still also have to deal with re-applying for a visa, which takes some time to process as well. So, I am placed in WAITING
WORKING ON WHAT? I am concentrating right now on women's ministry. After completing a vision plan for ministry, I am now trying to implement some of the goals I have set out for this year. I have started mentoring some key leaders in women's ministry in our Japan Baptist Conference through regular internet meetings. We spend time together sharing and praying for various needs. It is a mutual time of encouragement. Shan Reed is continuing to lead the ladies' seminars on her own without me and is doing a very good job. We continue to discuss and collaborate on the seminars as we seek wisdom on how to proceed during this pandemic.
mode. Waiting, however, does not mean that I am to sit around and twiddle my thumbs but that I am to make most of this opportunity and get WORKING.
MENTORS: I am so thankful that I have two mentors in my life right now who are encouraging me and sharing their wisdom with me. A mentor whom I have had for many years is Carol Potratz. We have been meeting weekly, and she has given me much encouragement and wise counsel. I have also asked Heather Senges, who has had many years of experience in women's ministry, to be my mentor. How blessed I am to have these wise women to be mentored by! While I'm in Edmonton, I have also been mentoring Ashley, who has recently been diagnosed with Stage IV cancer. She is a younger woman who wants to grow in her relationship with God and is fighting for her life. I'm also involved in an Alpha program with a young Japanese woman who is seeking Truth and a job while her visa lasts. These mentoring relationships have been very meaningful to me.
2020 AUG Nakano.mbcyA recent highlight was being able to visit with Raffaele and Sylvia Gaudio and their family at their home in Creston, British Columbia. Carol Potratz and I drove down to see them. We had a mutual time of encouragement and times of prayer. The Gaudios are preparing themselves to go to Japan as missionaries and are in the process of getting in contact with churches and individuals for raising support and prayer partners. They have been working on a wonderful video that they would love to share. Please see their information at https://nabonmission.org/missionaries/raffaele-sylvia-gaudio/, and please do not hesitate to connect with them. Getting to know them better increases my excitement for them coming to Japan to join our missionary family.
Prayer
Wisdom to use this time of waiting to go back to Japan to be as productive as possible for ministry in Japan.
Worldwide decrease of COVID-19 danger so that international borders could open up again and my visa application to Japan would begin and go smoothly.
The message I will give to the youth in Japan on August 13 via Zoom would go well and the youth would truly be encouraged to trust in the Lord during these uncertain days.
The Gaudio family as they raise prayer and financial support to join our Japan NAB team.
Praises
Wonderful opportunities to mentor and disciple women, both here in Canada and also Japan.
Amazing ministry mentors who are encouraging me and teaching me, particularly in the area of women's ministry.
Ministry to Japan can continue via the internet and much has been accomplished despite the distance.
Great visit with the Gaudio family in Creston, British Columbia, to encourage, pray, and fellowship together.
I wait for the Lord, my soul waits, and in his word I put my hope.
Psalm 130:5
Thank you for your prayers and partnership!
---
Yuri Nakano
5712-188 Street NW, edmonton, alberta, t6m 2a5, Canada
Address in Japan:  SHINHINOODAI 2-CHO 2-5-613, MINAMI-KU,SAKAI-SHI, OSAKA-FU, JAPAN 590-0143
nakanoyuri@hotmail.com
nabonmission.org/missionaries/yuri-nakano/