Published on February 20, 2022
Click here to view this newsletter as a PDF.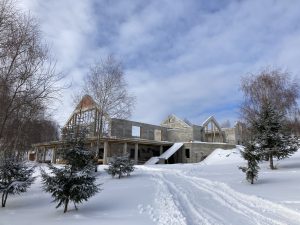 Greetings from sunny Alberta – I can't say snowy Alberta because we don't have any snow here in southern Alberta. We are getting settled into our rental home in Red Cliff near our son and his family. Vern is busy being chore boy. He and Tuske (our Hungarian dog) love hanging out with the cows!
We are enjoying being grandparents again – we forgot how busy life is with little ones. Cache (9) is thrilled when he can win a game of crib against Papa. Mabel (7) and Grammie were going over her social schoolwork; the article was about the Germans landing in Saskatchewan. It talked about their dress and food. It mentioned that they ate lots of schnitzel. I told her that I learnt from my Hungarian friends in Romania how to make schnitzel. Mabel and I made schnitzel for supper – it was enjoyed by all. Waylon (almost 3) is a busy boy. He can be found playing with LEGO, his trucks, or with a piece of paper drawing a picture for our fridge. When we go to Edmonton to visit our daughter and her family, Jack (5) always asks that we bring Tuske with us. He enjoys throwing the ball for Tuske in the backyard. Amelia (3) is Papa's shadow – they spend time reading books and doing puzzles.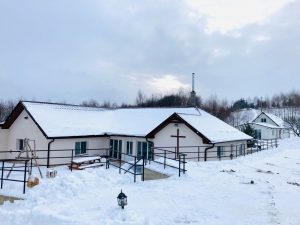 We are visiting our supporting churches, sharing about our journey over the past five years at Camp Falcon Rock. It is great to connect with the churches and see people face to face who have been a big part of the ministry in Romania. Because of folks like you, the growth of Camp Falcon Rock carries on.
Construction has slowed down at Camp Falcon Rock as they have received lots of snow, so most days are spent clearing roads and sidewalks. On a positive note, they are having lots of weekend rentals at the facilities. They can enjoy the snow and then have a soak in the hot tub. It's so great to see the camp being used year round.
We thank you for your continued support and prayers. We are blessed.
---
Vern & Gloria Wagner
1219 PLEASANT GROVE BLVD., ROSEVILLE, CA, 95678
vwagner@gmail.com | NABONMISSION.ORG/MISSIONARIES/VERN-AND-GLORIA-WAGNER