Published on November 14, 2019
Click here to view this newsletter as a PDF.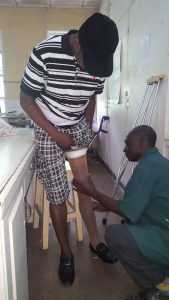 "When I arrived at the [Mbingo Baptist] hospital that evening, the security people [at reception] came to help me immediately, like bees going to palm wine," a patient explained to me. Tom continued to tell me his story, "The immediate attention I received was quite the contrast from my earlier stop at the hospital nearest my home. There, no one was eager to attend to me; they were busy looking at their phones and texting. Finally, they got up, bandaged my bleeding leg, and started an IV, but they said that was all they could do to help me. After that experience I decided to come to Mbingo because of the high reputation of this Christian hospital. I hired a different vehicle and when that one broke down, I hired a third vehicle. I finally arrived twelve hours after I had been injured."
How did this story end? Due to the severity of the injury, Tom's leg could not be saved and had to be amputated. After it had healed, he returned to Mbingo to be fitted with a prosthesis. When I met him he was learning to walk again with the assistance of our physical therapy staff.
Was Tom bitter about losing his leg? No. He told me, "I have forgiven those who caused this injury to me. After all, since Christ has forgiven me and accepted me as his child, how can I do anything less than forgive others? I thank God that he saved my life."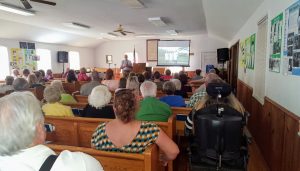 When we think of giving high quality and compassionate care to patients, we most often think of the care given by the physicians, nurses, and hospital chaplains; we don't often think of the opportunities that security guards, housekeepers, maintenance staff, and others have to directly and indirectly show Christ's love to our patients and their caregivers. Just as the Church is the body of Christ, in the same way the entirety of a Christian hospital's staff works together demonstrating the love of Christ as a microcosm of the Kingdom of God. Let us be challenged to be more "like bees going to palm wine" as we share the whole Gospel with those around us.
We were recently in the US for two months to attend two conferences, visit a few churches, and see our family. One highlight was to attend the 150th anniversary of Dennis's home church in rural southwest Missouri. Over the past 45 years, two pastors and two missionaries came out of this small church. It was a blessing to hear the testimonies of several of those who came to Christ through this small church. Dennis had the opportunity to speak about how God is working through the churches and medical work in Cameroon.
And of course, it was wonderful to see our siblings, and to have our five grandchildren together for a few short days.
Have wonderful times as you celebrate the coming Christmas season with those around you. Thank you for your prayers and encouragement to us over this past year.
Dennis & Nancy Palmer
Prayer
That God's love and redemption will continue to be proclaimed in word and deed by all our hospital staff
Praises
Continued safety for our hospital staff
The opportunity to work alongside our Cameroonian colleagues
"Go and tell John what you hear and observe: the blind see, the lame walk, lepers are cleansed, the deaf hear . . . and the destitute hear the good news" Matthew 11:4-5