Published on May 28, 2020
Click here to view this newsletter as a PDF.
Gewɗum ɗon
We remember before our God and Father your work produced by faith, your labor prompted by love, and your endurance inspired by hope in our Lord Jesus Christ.
1 Thessalonians 1:3
Dear Family and Friends,
Gewɗum ɗon. This little phrase literally means something like "sadness is" – the sadness being the emotion of missing someone you love. Sonya and I have just this past week – Friday, May 1 – landed in Edmonton, Alberta, after close to four weeks of travelling, packing, and saying goodbye to various groups of people.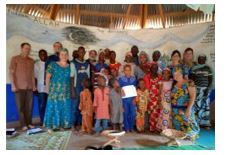 We had been staying in Nigeria when we got the news from the Canadian High Commission in Yaoundé, Cameroon, that a flight might be coming out in the next two weeks, and we had to let them know right away if we were interested. Our furlough plans being somewhat up in the air because of COVID-19, the decisive event was our eldest son's upcoming July wedding, and so we made the decision to try. We made a quick trip out to our village to say goodbye to the people there; this was the place where Sonya has been working on the health clinic. I consider that place to be my real home in Africa, having been staying there off and on since 2008, so leaving the people there was not easy. Gewɗum ɗon.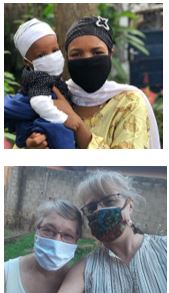 The border between Nigeria and Cameroon was officially closed, but we managed to gain the support of the immigration officials on the Nigerian side, but when we got to Cameroon there was no one (official) at the checkpoint(!). So we said goodbye to our motorcycle drivers, hopped into our waiting truck, and drove away. We packed up our current Cameroon house in order to come home on furlough. Again, we also spent time saying goodbye to the families that we have grown so close to there. Gewɗum ɗon.
After a couple of weeks (and past their anticipated date), the High Commission let us know that a plane was indeed coming, so we finished packing the house and headed to Yaoundé to catch a chartered Ethiopian Air flight on the last day of April for a most wearisome flight to Toronto, rebooking our missed flights from there to Edmonton.
Thus ended three months of a very packed (and packing) schedule.

Since our last newsletter in February, after some more 'hurry up and wait' experiences, Sonya was on hand when our long-awaited sea container of medical equipment arrived, complete with innumerable additional delays, expenses, and headaches, as well as multiple moments of holding our breath.
PRAISE – The sea container is in place. It has an AWESOME array of equipment and materials, undamaged in spite of the offloading difficulties.

 PRAYER – A few key items and parts and many supplies are still needing to be purchased before the clinic can launch. We were finalizing those lists when the COVID-19 restrictions began to take effect, making it alternatingly difficult, expensive, or impossible to acquire various items.
The positive development from all these hassles was establishing contact with the managers of the local company (through a request for help with their forklift). The management works closely with the Governor and came through on a promise to try get the attention of the Governor for our work. In fact, these past few months yielded several surprising visits by high-ranking Nigerian officials to our small village to inspect our (nearly ready to open) health clinic.

Late in 2019, I (Jeff) spent a day or so with their 'outreach coordinator,' drafting a six-page letter to give to prospective Nigerian sponsors outlining the work that their NGO is presently involved in. This includes not only the health clinic but also things like water projects; primary, secondary, and vocational education; economic development projects; health and hygiene workshops; and so on. They use this document and other tools to actively promote the work of their NGO to all kinds of officials within the various levels of government, which is paying off.
After I arrived in March, Sonya and I joined a delegation to visit the Local Government Chair in Gembu, who later came to see the sea container for himself. He was impressed and pledged to help. The culmination was a short-notice, low-key visit by the Governor and his wife on Palm Sunday (with the wife coming back the next day with her daughters to visit some more with Sonya). The Governor's visit was a very big deal on many fronts, as you can imagine. He pledged to give a sizable sum at that time for the work of the clinic and promised more help to come. Thus far, he has been as good as his word, and just  as Sonya and I were leaving the country we were contacted about another sizable grant, also influenced by him, coming from the State Health Commission.
To my North American sensibilities, these things seem an odd way to do business – but that is the way things get done in these countries in Africa. The government will wait to see if a community will invest in their own in education or health care, and when they see they are serious (often years later), the government will come along and begin to support the projects. I will humbly say that one thing that has aided the work there has been the "on-the-ground" presence of Sonya and I in the work. Somehow having missionaries from North America lends credibility to the work in the eyes of government people, and they are more willing to become involved in the work.
PRAISE – The additional funds for the clinic have allowed us to finish the maternity ward and will allow us to finish the delivery room and some other infrastructure work, and the last was designated to purchase additional land for future expansion.

PRAY – We had to restart with messy renovations to finish these items, so the finishing work has been delayed yet again. Also, our sudden departure meant Sonya had to hand over a large number of administrative and detailed projects she was looking forward to finishing. Gewɗum ɗon.

PRAY – For our new administrator, Daniel (who used to work with the Muntings) as there is MUCH work and they need wisdom as to whether to even open at this time. Pray for our doctor to be able to travel to the clinic soon, across state lines, and for our nurse, who is faithfully serving the community with limited resources.

PRAISE – COVID-19 seems to be moving more slowly than everyone anticipated in Africa, which flattens the curve a bit there as well.

PRAY – It has reached the state capital only a few hours away from our village. Most hospitals outside the major cities have very few resources to deal with the virus.
 I have understood all of this progress through the prayers of Paul for the Thessalonians. He writes, "We remember before our God and Father your work produced by faith, your labor prompted by love, and your endurance inspired by hope in our Lord Jesus Christ" (1 Thess 1:3). The Spirit of God has been working in our brothers and sisters, giving them faith, hope, and love, and these divine attributes have in turn produced the work which we are seeing now. It is a glorious thing, really, and it is humbling to be a small part of what God is doing there. I would like to say a big 'Thanks' to all of you for the various support you have given this effort as well. We are all part of the body of Christ, and we cannot do anything without one another. God bless you richly. Praise God with us for all these developments, and for the amazing work going on.
Jeff and Sonya Kilmartin
Box 50, Banyo.Adamawa State, Cameroon, West africa
Canadian address: 13233 60 Street NW Edmonton, AB T5A 0S4
Blog: kilmartinblog@wordpress.com
Email: jeff.kilmartin@gmail.com