Published on November 16, 2020
Click here to view this newsletter as a PDF.
As many of you are aware, since July, I (Paul) have been struggling with a herniated disc. After returning from our youth hiking trip in August, I was mostly immobile, except for trips to physiotherapy. During this time, we consulted a number of doctors, surgeons and physiotherapists to see the best course of action, and everyone came to the conclusion that I needed back surgery. With the severity of the herniation in my L5-S1 and the severe sciatic nerve damage, it was determined that I would need a total disc replacement. This is a surgery that is only offered in Germany. So off we went, Tanya driving the 20+ hours while I laid in the back seat/trunk of the car as we tried to cross closed borders in the middle of a pandemic! There were a lot variables in this journey that could have prevented this treatment from happening, and yet over and over again we saw God faithfully provide.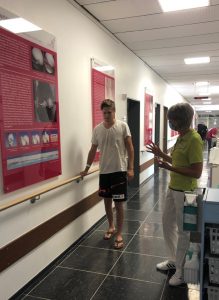 On September 17, 2020, I underwent the two-hour procedure to have my L5 disc removed by anterior approach (going through my abdomen) and replaced with a titanium one. The surgery went smoothly with no complications. The first week after recovery was extremely painful and was slower than what I had imagined. However, for week two, I was sent to a state-of-the-art rehabilitation center where I was able to see world-class professionals (physiotherapists, massage therapists, occupational therapists, doctors, nurses, etc.) who worked together as a team to get me walking and sitting again. I am so grateful to have \had the ability to go to Germany for this incredible care.
Since returning home, we (mostly Tanya . . . actually only Tanya) has been setting up our house in the village (as we now moved back from the camp to the village in anticipation of the Wagners returning to Romania at the end of October). I have been going to physiotherapy daily (in the nearest city) and slowly getting more mobile and stronger in the process . . . and we now begin to get life back to "normal" (whatever that means in this season of recovery and uncertainty of COVID).
All in all, we are doing well. As I said above, the recovery has been a little slower and more painful than I would like. The incision pain in my stomach can be very bothersome at times, and my legs can still be in a lot of pain. Apparently the new disc has caused me to grow taller, and now my muscles and ligaments are catching up! In all of this we are reminded of God's faithfulness. The night before my surgery I was drawn to the realization that my hope was not in the success of the surgery, in a pain-free experience, or even in the steadiness and expertise of the surgeon's hands (even though I, along with many of you, were praying for these things). To be honest I wasn't certain of any of these things, as my faith wasn't in any of these things. My faith was in God alone, in His faithfulness and in His leading. As we all continue to walk and live in an extremely uncertain time (health concerns, COVID, political tensions; all causing incredible turmoil), my hope during this season is not that any of these things will resolve quickly or easily, but in the realization of a God who is active with His creation and present with His people.
This presence is true for all of us and has been true for the camp as we have had to spend this time away. When Tanya and I returned to Romania, we headed up to the camp to check in. We were pleasantly surprised to see the foundation and basement walls of the main lodge completed. As you all know, this is a massive project for us at Camp Falcon Rock and will launch us into year-round ministry, as well as increase our capacity and the long-term sustainability of the camp. Even in the midst of the realities of COVID, of back surgery, of being away, and with limited resources, God continues to provide for us and display His faithfulness through it all. And so we walk forward (a little gingerly at this moment) with confidence in our great God who remains faithful to His promises.
It is with this confidence that we can move ahead with excitement, anticipation, and certainty in God's leading in the mission of Camp Falcon Rock. We continue to see God's faithfulness, not only in providing for the development of the camp but also in continuing to bring forth fruit in the young people in Romania through this ministry. If you would like to join us in continuing to follow God's leading in developing the main lodge, we invite you to partner with us in this project.
Thank you for all of your love, care, and support of us personally, as well as for this ministry. We are honoured to get to partner in all of it with you.
Paul & Tanya Gericke
---
Prayer
Pray for safety and health as the construction crew at camp continues to work, especially as the COVID-19 cases continue to rise in Romania.
Pray for continued healing for Paul as he is recovering from back surgery.
Pray for continued financial provision as the camp continues to build the main lodge.
Pray for the Bergman family as they raise support and hope to move to Romania spring 2021.
Praises
Praise God for the medical provision and surgery success for Paul with his total disc replacement surgery (L5-S1) September 2020.
Praise God that Vern and Gloria Wagner made it back to Romania safely and in good health since completing their home assignment.
Praise God for the incredible work that has been completed on the main lodge (foundation, basement concrete walls, and pillars).
Praise God that we, along with the camp crew, have remained healthy during this pandemic.
So do not fear, for I am with you; do not be dismayed, for I am your God. I will strengthen you and help you; I will uphold you with my righteous right hand.
Isaiah 41:10 (NIV)
---
7336 149a ST surrey, B.C., Canada, v3S 3h3