Published on August 20, 2020
Click here to view this newsletter as a PDF.
Summer joy! That's what we have experienced in these past few months. Covid brought a lot of restrictions, but with it were many blessings. Although Yuri couldn't return to Japan, we had the privilege of having her come visit us with Carol Potratz. What an encouragement they were.
We enjoyed sweet fellowship, prayer, and worship and great discussion.
That following weekend, three young men and a young girl were baptized outside in our backyard fellowship. But the special part of that was one of the young men was our son-in-law. How encouraging to see the Spirit of God at work and moving hearts to want to follow Him wholly.
We experienced the bittersweet departure of our daughter Allie and her husband, Clay, and little baby Jeremiah as they moved this week across the border to America. Although they are moving only two and a half hours away by car, because of the closed border it is impossible to see them at present, with no set date of opening in the future. But we commit them to the Lord and know that He has them safely in His loving arms.
Ezra got a summer job at A&W fast food and is really enjoying the responsibility. Lydia also works in fast food (Dairy Queen) but spent most of her time off with her new nephew, whom she loves very much. She was a welcome "nanny" during baby Jeremiah's fussy times.
Jude has enjoyed many sunny days bike riding, swimming in the river, and looking after our chickens and pigs.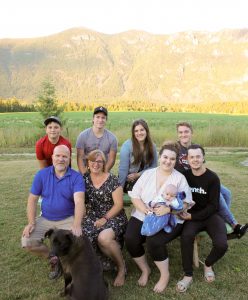 God's provision has been so amazing from the time that Raff was laid off as a pastor (although he has continued pastoring in an unofficial way ) and our income was significantly reduced. Unexpected gifts and God's multiplication of food has made this time a walk of faith that He has rewarded. In His perfect timing, Sylvia found two jobs and has started working three-quarter's time. This is a change in our household, to which all seem to be adjusting.
Raff has had opportunities to preach in other churches and also in the backyard fellowship that we attend.
This season of preparation requires prayer and much faith. We do ask that you would remember us in prayer as it is easy to lose momentum in the waiting. We want to continue moving forward with all that God has for us during this season of preparation and equipping.
Much blessing to you all in Christ,
Love Raff and Sylvia, Lydia, Ezra, and Jude
---
Prayer
Pray that God would continue to help us to stay focused in the season of preparation and raising support.
Pray that our oldest daughter and family would settle in to a new community and fellowship and that the border would open again so we could see them.
Praises
God provided a job for Sylvia in the interim.
Our Son-in-law got baptized!
God has provided continually even in the season of reduced income.
Like cold water to a weary soul is good news from a distant land.
Proverbs 25:25 (NIV)
---
rafa.sylv7@gmail.com | (250) 428-7769
nabonmission.org/missionaries/raffaele-sylvia-gaudio
Ways to Give to the Gaudios Start-up Fund