Published on August 19, 2021
Click here to view this newsletter as a PDF.
If you keep up with our smaller email communications, you know that Elijah and I have been in the States since May and Paul arrived in July. I continued to work remotely from the States, and Paul and I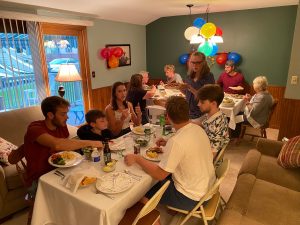 were glad to be able to join the Triennial from the Eastern Time Zone versus Japan. J As we finished working remotely, we now are using vacation time to rest and continue our visit with family. It has been especially busy, as any parent can understand, catching up with Noah and Jonah (whom we have not seen in person for two years). Both have made different vehicle purchases, which Paul has been giving council and working side-by-side getting greasy and trying to patch up. We are navigating and straddling parenting Elijah, who is 16, and now two adult children, who, praise the Lord, still come and ask for advice but who are adults nonetheless and have their own ideas and ways of viewing and approaching the world. Our family dinner hours are often filled with boisterous opinions as a wide range of topics are discussed. My mom, Linda, who opens her home to us each time we are stateside, finds our lively discussions quite entertaining. It has also been a blessing to catch up with extended family. We celebrated Jean's birthday with eight out of her 11 grandchildren present, and we were overwhelmed with thankfulness. The eight grandchildren range in ages 22–29 years of age and see each other quite infrequently as they live across three continents, yet their fellowship is sweet, loving, and enjoyable. They truly enjoy just getting together and spending time together. What a
Our time stateside also includes health check-ups of all sorts for Paul and I, but also shepherding all the kids through doctors and dentists, this time also including wisdom teeth extraction and COVID-19 vaccinations.
blessing!
COVID-19 numbers continue to rise in Osaka and Tokyo, which causes requirements for returning back to Japan to be in fluctuation. Please be in prayer with us that we will be able to stay informed of the latest news and information so that we may have all the required documents and tests needed. Be in prayer for Saijo Sensei and the church leadership as they navigate the situation as well.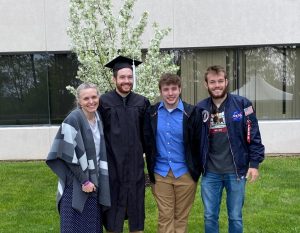 JBC youth will be having a virtual gathering on August 13. Please be in prayer that youth will join and be encouraged. Be in prayer for the churches' leaders as they continue to encourage the youth with the added stress of COVID-19. Shan Reed is the speaker; pray for the Spirit's anointing, that she will speak words that are needed to be heard. Pray for all the youth of the world who are on this journey of faith, that they would be strengthened and encouraged and listen to the Spirit for what is truth.
Though Triennial was different this year, the speakers were a blessing, and we pray that many of you were able to take advantage and participated. Please continue to pray for Raff and Sylvia Gaudio as they continue to persevere in raising funds during this difficult time. Pray for them to be encouraged and that the Sprit would move hearts to support them. We continue to pray, hope for, and look forward to the Gaudio family joining our team. Please continue to pray with us (nabonmission.org/missionaries/raffaele-sylvia-gaudio).
Blessings
Paul & Melissa Ewing
2-33-6 Miikedai, minami ku, Sakai shi, Osaka Japan 590-0134
680 Heim road, getzville, New york USA 14068
Paul: pemedicus@yahoo.com
Melissa: japanewing@yahoo.com