Published on November 14, 2019
Click here to view this newsletter as a PDF.
Dear Ministry Partners,
Students have returned and ministry programs have restarted. We had several great opportunities to connect with new students at our picnics and one on one times. Pictured is our final picnic for the summer in August. We certainly had a Latino dominated event with the countries of Columbia, Mexico, Chile, and also one student representing Mongolia.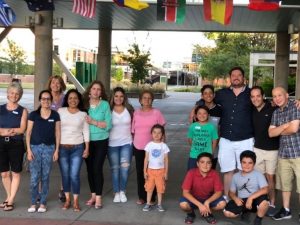 This fall has been like starting all over. With several of our key students returning home and some transferring to other schools, we have our work cut out for us.
This summer I met a Latino pastor who had been serving in a church here in Utah that had closed. (More than 6 churches in Utah County have closed in the last 2 years.) He was deeply hurting and questioning his call to ministry. We have been meeting weekly for encouragement, discipleship, and prayer. I'm thankful to say he is considering going back into ministry again. Please pray for him and his family. It is estimated that there are nearly 750,000 Latinos now living in the Salt Lake region. This area is desperately in need of solid Latino churches.
We befriended some new neighbors, J. & B., who had moved from California the first of this year. As our friendship developed, I noticed through our conversation they were not Mormon. They had not found a church since they moved to Utah. So late this summer we brought them to church (the only Christian church here in Saratoga Springs in a population of 40,000+!!! Does that not break your heart?!?!), and they were so happy to have found Christian fellowship. They just moved again (about 5 miles north) and B. has now been diagnosed with cancer. Pray for them and their three young kids. We plan to introduce them to another church this weekend, very close to where they have moved.
Pray for Utah! It is truly a mission field!
The NAB NW Association has begun "Elevation Project." This new ministry endeavor here in Utah is being led by our son Nate. He will be working with existing churches and pastors in Utah and Idaho to encourage and guide them to effectively reach the culture here and begin new church plants. If you desire for more info and to support this mission work click on: elevationprojectut.com.
Click below to contact us for training your church to reach internationals in your locale.
https://nabconference.org/north-american-missions/equipping/nab-gateway/reaching-international-students/
If the Lord should lead you to partner with us, click below or go online to:
Canadian donations: https://my.nabconference.org/default.aspx?page=3432&funds=691
U.S. donations: https://my.nabconference.org/default.aspx?page=3437&funds=692
Please do not post this newsletter to any social media. Thanks!
Bud Fuchs