Published on November 08, 2021
Click here to view this newsletter as a PDF.
Every two months I sit down to write to you all and look at my calendar to remind myself of the things that have been done. I'll be honest, sometimes it's hard to find something exciting to report back. After getting out of quarantine, starting English classes, Bible classes, and administration work at the church, we continue to daily work faithfully at Komyo Church. We continue to support the gatherings and activities that have been established at the church as we w ait on the Lord to lead us in ways to release the church. It feels almost like releasing your kids to adulthood, out of your circle of influence and launched to make their own decisions. We are entering a season of faithfully waiting on the Lord. When and how to release, who to team up with for the next church plant, and where does He want that next church plant to be? It is a season where the future is not clear, with uncertainty in the air. I think we have all been there, desiring quick answers and directions to be given. Yet, as we also know, God's timing is not human timing; it's in the faithful waiting that He directs, sustains, and confirms the directions. It's in the faithful waiting that God prepares us for His right timing because He will move quickly and decisively. So while we faithfully wait, we continue to teach English, Bible studies, lead worship, perform administration work, all to the best of our abilities and talents so that God may be glorified through our work.
On October 4, we sent Elijah off to school and traveled eight hours to Narita airport in Tokyo to welcome and transport Shan Reed back to Osaka. We are excited to have all of us back on the field, being able to work and fellowship together. We continue to pray and faithfully wait for God to call others to join our team. Please join us in this prayer.
It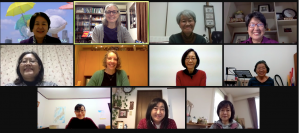 was a joy to be included in the planning of a one day Zoom retreat for the JBC pastors' wives. Yuri Nakano was the speaker, and I, Melissa, was the technical support. COVID-19 has disrupted much of life, and yet there has been good that has come out of it. In the past, it would be hard for some of these wives to travel and meet in person, but online it becomes more convenient. We had eight out of ten wives able to attend with large and small group sharing. I am humbled and filled with joy that God would use me in a simple way to help be a blessing to others.
Elijah has returned to KCS (Kansai Christian School), which means he has a three-hour daily commute. He is happy to be able to return back to a brick and mortar school and enjoy fellowship with his classmates. This will be his last school year in Japan. Pray for this year to go smoothly and to be filled with memories to take with him. Noah and Jonah are back to their school routines. Noah is attending the University at Buffalo for a Master's program in History, and Jonah has returned to Houghton College for his third year. It's hard being far away from them.
Thank you for your faithful prayer and financial support!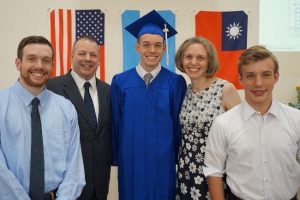 Blessings,
Paul & Melissa Ewing
---
2-33-6 Miikedai, Minami Ku, Sakai Shi, Osaka Japan 590-0134
680 Heim Road, Getzville, New York USA 14068
Paul: pemedicus@yahoo.com
Melissa: japanewing@yahoo.com