Published on May 28, 2020
Click here to view this newsletter as a PDF.
Prayer
Wisdom and guidance in using my time wisely and doing ministry from afar with the use of internet communications.
Holy Spirit to work in the lives of my parents unto salvation for such a time as this.
God's timing in opening up the borders again and being able to apply for a visa without difficulties.
For the Gaudio family as they raise prayer and financial support.
Praises
Extended time to be with my parents and to see God's hand upon these unexpected turn of events.
Positive opportunities to connect with people despite social distancing.
Ministry to Japan can continue via the use of the internet and that I can use this extended time of home assignment to acquire more resources to bring back to Japan.
"But blessed is the man who trusts in the Lord, whose confidence is in Him. He will be like a tree planted by the water that sends out its roots by the stream. It does not fear when heat comes; its leaves are always green. It has no worries in a year of drought and never fails to bear fruit."
Jeremiah 17:7–8
On April 1, I was fooled! My suitcases were packed and ready to leave Edmonton to go back to Japan early next morning. I got a message from my sister saying she saw an announcement from a Japan Travel Agency and that I should check it out. I called the Japanese Consulate in Calgary to make sure I was able to fly out. I was told an emphatic, "No!" The border to Japan would be closed to Canadians by the time I landed there. I missed it by 15 hours! Many were wondering why I would even try to go back to Japan, but in my prayers about it, God gave me the assurance to trust in Him and to go through the open door. But the door closed! I was disappointed, but at the same time I could sense God's hand on the situation and I had a peace in my heart.
EASTER WITH FAMILY: I was able to experience Holy Week with my home church via the internet and focus on the theme of lament, which was so divinely appointed before this COVID‑19 pandemic started. It made for a meaningful season reflecting on the Suffering Christ, who understands our suffering like no one else can. Easter was quiet this year but nonetheless meaningful, with an extra special celebration of my parents' 50th wedding anniversary. I am thankful that I could be here to celebrate this special milestone with them. In many ways I feel God has me here for an extended home assignment to spend more time with my parents. Social distancing and isolating ourselves has caused much more free time on our hands, and we've been creatively using this time to do things together we never were able to do before, such as playing table games together, exercising together, writing out Scripture together, etc. Ironically, we've even gotten to know our neighbors better through this time!
My brother-in-law's father passed away recently, and I feel that I am to be here for such a time as this. We can't have a funeral during this time of social distancing, but we will have a private family graveside service, which I will lead. His death so soon after Easter reminds me of the hope that we have in the life beyond this one because Jesus resurrected from the dead to conquer the power of death and sin.
MINISTRY: I am thankful that God had already provided a means for us to continue ministry via the internet. Having team meetings via Zoom with my colleagues in Japan and connecting with people via social media and internet chats has allowed for ministry to continue in some capacity. Though it is not ideal, I am thankful that ministry does not have to stop because of this virus.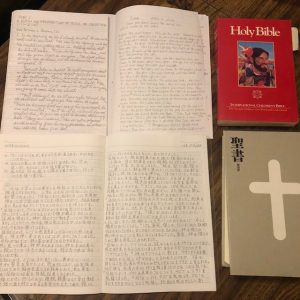 Meanwhile, as I wait upon the borders to open again, I am working on continuing personal development via finishing off my Blue Ocean training (via online) and capitalizing on the extra time to spend more time with God in intimate fellowship and working on spiritual disciplines. Seeking God's vision for future ministry to women in Japan for the next 10 years has been my aim these past few weeks. I have also been making videos for our church kids for Sunday online worship using my puppet Ducky and her friends. I want to use this time to explore and acquire resources for women's ministry in Japan and to already start doing that here where God has placed me.
Thank you for your continued involvement through your prayers and financial support. Please also pray for the Gaudio family as they build a team of prayer and financial supporters. If you feel led to support them as. well, information can be found here: https://nabonmission.org/missionaries/raffaele-sylvia-gaudio/.
Yuri Nakano
5712-188 Street NW, edmonton, alberta, t6m 2a5, Canada
Address in Japan:  SHINHINOODAI 2-CHO 2-5-613, MINAMI-KU,SAKAI-SHI, OSAKA-FU, JAPAN 590-0143
nakanoyuri@hotmail.com
nabonmission.org/missionaries/yuri-nakano/