Published on November 14, 2019
Click here to view this newsletter as a PDF.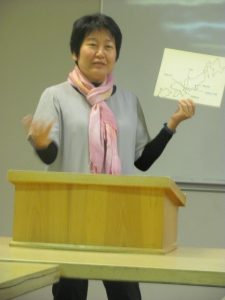 It continues to be a joy to visit supporting churches across Canada. It is good to see familiar faces and also new ones when I visit churches and share about the ministry in Japan. I have been blessed in so many ways. I have been welcomed warmly and many people have opened up their homes and have shared their gifts of hospitality. I am encouraged by my supporting churches and their commitment to continue partnering with me in ministry. I have met prayer warriors who have come up to me to specifically ask about certain people and ministries that they have been following via my prayer letters. This kind of prayer warrior brings tears to my eyes because I know they are truly partnering with me and understand the value of fighting the spiritual battle through prayer. THANK YOU!!
The largest typhoon to hit Japan in 60 years has caused much damage in many areas of Japan. My heart continues to ache for this nation as people suffer during these many disasters and don't have the comfort of Jesus' Presence in their lives. Please continue to join with me in prayer that the churches and individual believers in Japan will be empowered even more to bring the hope and love of Jesus to many who do not know. Pray for the many who have lost their homes and family members due to this storm.
UPCOMING SCHEDULE:
November 3: PLEVNA FIRST BAPTIST, MT, USA
November 7: ECCC dinner, EDM
November 10: STURGEON VALLEY, ST. ALBERT
November 17: LIVING FOUNTAIN, EDM
November 24: WEST MEADOWS, EDM
I look forward to having a more relaxed December month with family and friends during the holiday season. I also hope to have a reflective and intimate season celebrating the meaning of Jesus' birth and what His gift means in transforming my life. I wish this for you all as well.
Joy in His Service,
Yuri Nakano
Prayer
Continuation of traveling mercies as I travel to various churches and supporters to share about ministry in Japan.
For a good spiritual rhythm to life in the midst of an irregular schedule and to make healthy choices.
For my colleagues in Japan, Paul and Melissa Ewing and Shan Reed as they serve faithfully at Komyo Christian church and influence many for Christ, especially during the upcoming busy Advent season.
For the pastors in Japan to be encouraged and empowered by the Holy Spirit, to not grow weary in doing good, and for more people to answer the call to enter ministry.
Praises
Wonderful visits to my supporting churches and connecting with ministry partners and prayer supporters.
People who have graciously shared their gifts of hospitality and generosity as I travel and visit.
Time to spend with family and friends.
"Then Jesus told his disciples a parable to show them that they should ALWAYS PRAY AND NOT GIVE UP." Luke 18:1 (NIV, emphasis added)