Published on November 13, 2019
Click here to view this newsletter as a PDF.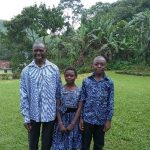 August brought a joyous occasion in our church—17 young people were baptized one Sunday! They were from ages 10-25. There were some dramatic testimony stories including 3 who had participated in the conflict as members of one side, who after months of discipling by one of our hospital chaplains have become believers in Jesus. God can truly change hearts.
Each Sunday the hospital chaplain on call leads a Sunday morning worship service for patients and caregivers in the hospital chapel.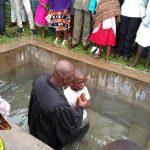 During the service there is a time for anyone to give a testimony of what God has done for them. There have been many patients and their caregivers who testify of how they came to know the Lord while being a patient in the hospital. How grateful they were for such good care and healing they experienced here, all giving God the glory!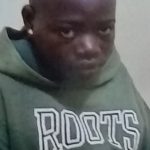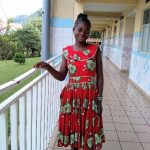 Some of you may remember an orphan girl that our Women In Service (WINS) group sponsored in school a few years back. This shy, quiet young girl who would barely look up from the ground while trying to talk to you has become a beautiful young lady inside and out. Due to the fact that schools were closed the last 3 years our group helped her in an apprenticeship for tailoring. She has really blossomed and become quite a tailor. She made the dress she is wearing in the picture.
In October we had our annual NAB retreat. We had not been able to have it in April, our usual time, because of some instability in the country. We didn't know if we were going to make it since there were some road blocks in our area, and there was a travel ban on the day we needed to travel. We had given up on the idea of going when the Lord provided a way where there seemed to be no way. The hospital administrator arranged for a driver and car to take us. Earlier that day there was an exchange of gunfire at one point on the road, but then it cleared and we received word that we should leave immediately while things were calm. Though there were partial blockages on the road, we were able to weave around the blockages and did not encounter any fighters. God opened the door…literally!! The picture is of the NAB missionaries that were in country for the retreat.
Last but not least is the lively, enjoyable time of Thanksgiving in all the churches here! The month of October, and sometimes it overflows into November, is dedicated to celebrating the Harvest Thanksgiving. Since we are in an area where there are many farmers, there are many offerings of the first fruits of crops. The center aisle is used for dancing down with your gift to offer to the Lord. People dance with firewood on their head, a basket of corn on their back, a long stick of sugar cane in their hand, etc. It is one of our favorite times of year to celebrate in God's house!
In His Matchless Love,
Rick & Debbie Bardin