Published on February 17, 2020
Click here to view this newsletter as a PDF.
…Pray for us that the message of the Lord may spread rapidly and be honored, just as it was with you. And pray that we may be delivered from evil and wicked men, for not everyone has faith.

II Thessalonians 3:1-2

Greetings Family and Friends,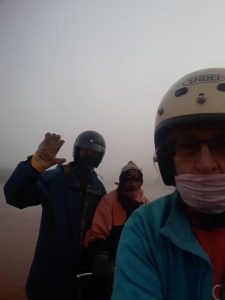 Hello from Banyo, Cameroon, where we are in the middle of dry season, and the dust can lie over an inch thick on the roads in some places. The weather is quite nice all the time, but water becomes an issue during this time, and many people suffer from allergies, Sonya included.
The Fu*ɓe Leadership Team has wrapped up their month-long tour of all (or most of) the believing communities, and it was a very good success. Their main emphasis this year was to show that not all the Christian Fu*ɓe are "on the same page" with respect to their faith, so they wanted to address that problem. They developed five issues which they asked each community to respond to: 1) following Jesus/God; 2) knowing the Bible; 3) handling marriage and family; 4) sharing Christ with neighbors; 5) the importance of community development.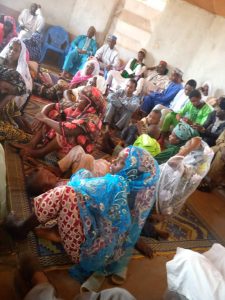 Jeff's part in that was to develop a biblical basis for each issue, so the leaders may further study what the Word of God has to say about each topic. The communities will now take time to think about the teaching they have received, and the questions posed. In a couple of months a smaller team will once again tour them all, hear their responses, and provide more biblical teaching. Thus far, the reception of the communities to the team has been very positive, and God is manifestly at work in the lives of the people here.
Of course, one of the underlying issues is a lack of trained Christian leaders in the various communities. To that end, we have begun to work on a Leadership Development program, working with young couples from the smaller communities. We are in the midst of developing a mentoring program, with "stations" the couples will travel to and stay for extended periods, learning from established leaders "on the job." We hope to have more information and ways for you to support this work in the near future. Pray for wisdom for the leadership as they select couples for these tasks and that there will be great fruit from this training.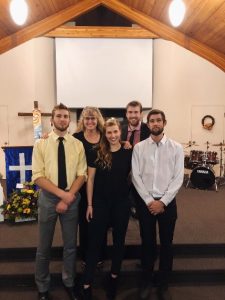 Last semester Jeff was in Nigeria, teaching in a small seminary there. The work went well, and he was also able to spend a lot of time working among the Fu*ɓe as well. He had a great opportunity to go with the leaders to greet the recently appointed lamido (king) of the area, and heard some very encouraging things from them about how the work of the New Dawn Initiative is perceived in the area.
Sonya spent September in Banyo, working with a local primary school, and with a few women doing some White Cross sewing, and then went home to Canada (after the NAB missions retreat in Limbe), to spend time with family and her mother. Her mom passed away in late November, and after a memorable memorial service, she returned to Banyo and then joined Jeff in Nigeria for Christmas. Praise God for safe travels- for us and all of our friends and partners. And thank you for the support and condolences of friends, family, and supporters.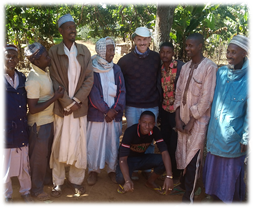 We attended one day of the Fu*be conference meetings in Gembu (which they hold through the Christmas season), and Jeff connected with an old friend Pastor Timothy, (who had taken him to MANY villages to preach when we lived in Nigeria in 2008-9). They visited the community of Furmi, speaking to Christians and Muslims, in two venues, while Sonya tried to catch up on some administrative work with the treasurer.
hen we came back from Nigeria in January, we attended the CMF (Cameroon Missionary Fellowship) retreat in Yaoundé, with our own Kerry Bender from NAB head office as our speaker. (And we made another Nigerian visa application while there).
We will soon be heading over to Nigeria. Praise God that the long-awaited sea container, coming from Edmonton, Canada, has reached Lagos, filled with medical equipment and furnishings (arranged by the Friends of the Fu*ɓe Society (FFS), and the Emmanuel foundation) to equip a new Health Center going up in one of our Fu*ɓe villages. Pray that the container arrives at the clinic site quickly and without incident, that a few more renovations are completed quickly, that the doctor can relocate soon, and that the clinic can launch within the next few months.
This is a huge undertaking, and could not have been envisioned without the backing of many Canadian supporters, as well as others around the world. Indeed, it could not have been accomplished without the support of the local people "on the ground," and the Fu*ɓe have managed to garner significant local support. During the last work day, over 120 people from all five of the major people groups from the surrounding communities, including Muslim and Christian, came to help.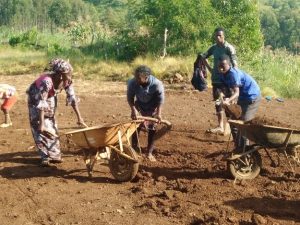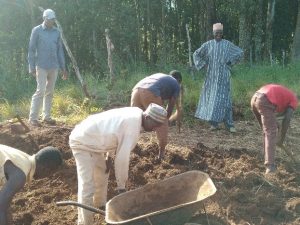 They are all anxiously awaiting the opening of the Health Center in this area, since the nearest adequately staffed medical facilities are over two hours away.
Pray that they can fill the needed positions remaining with well-trained personnel who are strong believers and that start-up funds can be arranged for one additional position.
We had still held out hope that we might return home to Ndu, where the Cameroon Baptist Seminary is. Due to the socio-political crisis still brewing in that part of the country, however, that has proved impossible. Instead, we will be coming to North America on a 6-month furlough. We are hoping to visit a good number of our supporting churches during this time. Right now our schedule is in flux, with July to October being confirmed, and the arrival and departure months before and after that still under discussion. We have only a few dates nailed down (like our eldest son's wedding in July [YAY!]) so if your church has a special event or occasion you would like to have us attend, please let us know and we will see what we can fit as we make travel plans. (Think creatively! Not only Sunday service, but daytime and evening events; picnics; potlucks; and youth, men's, women's and senior groups; children's programs, etc.) Pray that some of the details we need to take care of here will come together so that we can actively make home assignment plans and commitments.
When we return to Africa, we hope to host some of our more intrepid mission supporters as they come here to see for themselves what Fu*ɓe ministry is all about. That is to say, we are hereby inviting church members (this may be YOU) to come to either Nigeria or Cameroon between December 2020 to March 2021. The purpose of these visits is simply to get to know some of our key leaders, spend some time in the villages, experience worship and ministry here, and become a bit acculturated to the conditions that people here deal with every day.
One of the requirements for coming on such a trip will be to attend (or host) one of the NAB Gateway Teams training seminars.
https://nabonmission.org/get-involved/nab-gateway/gateway-global/
For more information, please email Jeff. Because there will be limited opportunities for trips, let us know soon if you are considering a visit.
Jeff and Sonya Kilmartin