Published on October 09, 2019
Click here to view this newsletter as a PDF.
Dear Chain of Love Friends,
We are so grateful to you for being with us this year. Up to now, many challenges have been conquered and we have faith that others will soon be conquered. We thank the Lord for you, who help us to keep on going in this ministry. The children and teenagers truly benefit from your help. We would like to share with you news from Chain of Love so you can be more familiar with the things happening here.
MISSIONS ACCOMPLISHED 
We would like to thank all those who prayed or contributed so that some of the projects that arose out of the needs we had this year could be carried out successfully. The projects of acquiring school uniforms and sports gear were successfully accomplished. We obtained funds to purchase needed school uniforms as well as soccer gear (shirts and soccer shoes), uniforms for the jujutsu ministry carried out by House 2 (pants, jackets, and belts), and the enrollment of our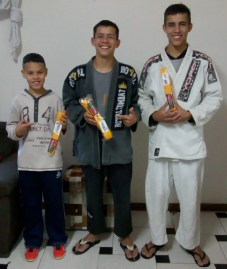 children and teenagers in local jujutsu tournaments and soccer schools. Unfortunately, we couldn't take one of our boys (Antonio) to a South American tournament in Rio de Janeiro.
This was not because of a lack of funds; after all, we were blessed by you. It was because his instructor didn't have enough funds to pay for his own air tickets. The money we received from sponsors and supporters was instead used to bless Antonio and other children and teenagers in the jujutsu ministry.
FIRE SAFETY UPGRADES
We are finishing the work of adjusting the technical center to the municipal fire safety legislation! We thank all those who got involved in this project, either with prayers or finances. These adjustments are a requirement of the municipality of Campo Bom, where the COL compound is located. Without these adjustments, we would not be in compliance with the required standards. We were blessed in such a way that the remaining money is being used in the transformation of the building where the woodshop operated.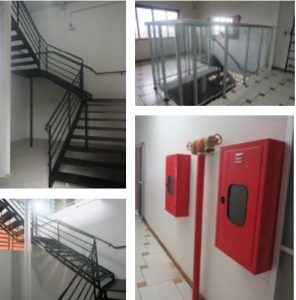 We will soon have in its place a worship room that may be used for other events as well. Because of the renovations in the technical center and the arrival of more children (we currently look after 102 children, teenagers, and young adults), the room we used for services became too small. Now, after the transformation of the woodshop into a worship room, space will no longer be a problem.
NEW OFF-CAMPUS HOME
We have just opened a new home in the city of Novo Hamburgo. This will be our last house there. We understand we are at our financial limit and we can't open any more off-campus homes there. As you may remember, the four off-campus homes in Novo Hamburgo were opened because the most recent legislation says that children and teenagers born in medium or big cities must be looked after in their cities of origin. This obliged us to transfer the Novo Hamburgo children and teenagers there. This was accomplished thanks to help we received from North America.
Due to the sizes of the houses and families, the family who lived in Off-Campus Home 2 (houseparents Fernando and Gabriela) moved to the brand new Off-Campus Home 4. As for Off-Campus Home 2, it is now the dwelling place of a new family where Joel and Jaqueline Bauer are houseparents. They are welcome on the COL team!
MORE EXITS
Houseparents Dionatan and Andreia from Off-Campus Home 3 have left us. At the beginning of September, Andreia expressed her desire to leave Chain of Love due to tiredness resulting from her position as a housemother looking after 10 children and teenagers coming from several backgrounds, in addition to her biological son. We are looking for new houseparents to look after House 3. Additionally, Karl and Vanderlene Uebelhoer are also, unfortunately, leaving us.  Karl, COL chaplain, felt a call from God to work with children and teenagers who have special needs in the state of Minas Gerais, where Vanderlene was born. We're already looking for another person to be the chaplain at COL. To these two couples, our many thanks for the time they spent with us serving our children and teenagers.
VISITS
We had the privilege of special visits in July and August. The band In His Steps, comprised of members from several Texan churches, came and participated in services. They also bought appliances for one of the houses, donated and repaired musical instruments, and organized music workshops for our children and teenagers. We were also blessed by another team from Texas, from different churches too, and led by our representative for the United States, Robbyn Hanstad. This team helped in works or repairs and painting, as well as participating in services, giving Bible studies to the moms and children, and organizing an eye clinic at Chain of Love. From Canada, we had the pleasure of having a team from Hillview Baptist Church in Edmonton, Alberta. They also came to serve our children and teenagers. They worked in the painting and renovation of House 3, which was adjusted to welcome people who have mobility needs. They additionally gave Bible studies and participated in services. We were blessed with donations brought from all these teams mentioned. The Hillview team even brought donations from the Sunday School of Parkland Baptist Church, in Spruce Grove, Alberta. Couple Alan and Judy Steier, professors from Bismarck, North Dakota, also visited us to learn more about our ministry. It is important to highlight that the international visits of this year had such a huge impact: several children and teenagers gave their lives to Jesus. We hope you will come visit us too! Tourist visas are no longer necessary for American and Canadian citizens. For additional information, please contact chainoflove.canada@gmail.com if you live in Canada or robbynhanstad@gmail.com if you live in the US.
CHRISTMAS PROJECT AND BIBLE CAMP
Christmas is coming soon and the Bible camp season too! January and February are summer months in Brazil. Some sponsors are already sending funds for Christmas gifts for our children. To them, our thankfulness. If you wish to contribute to our children's Christmas, may we suggest sending them to Bible camps? However, please don't feel obligated to do so. Your support during the year is something we really value and appreciate. We usually take our children and teenagers to Acamp-Serra Camp, one of the TeachBeyond Brasil / Janz Team Gramado ministries. Prices range from R$289 (about US $70 or CND $93) to R$551 (about US $133 or CND $176), according to the child's age. Only children from six to 17 years old are eligible to go to camp. In some cases, judges send some of them to spend their vacation with their biological families. Therefore, they end up not going to camps. If you sponsor some of the young adults from the Transition House, please, don't send money for the camp. They are over 18 years old. Please note that all donations for this purpose must be done through the NAB and the purpose of the donation must be specified.


TELMO CAMARGO IN NORTH AMERICA
From September 27 to November 18, COL Executive Director Telmo Camargo will be in North America to promote Chain of Love. He is visiting some American states and Canadian provinces. He will also participate in some conferences. You who live near the cities where the conferences will be held will get an invitation via email or snail mail to watch him and talk to him about Chain of Love. For additional information, please contact us through chainoflovehomes@gmail.com.
PRAYER REQUESTS
–           We praise the Lord for the projects carried out, the conversions at COL, and the life of all those who support COL with their prayers or finances
–           For more conversions
–           A safe and productive trip for Telmo and the team that represent COL
–           New houseparents who are committed to God
God bless you richly,
CHAIN OF LOVE HOMES
CP 2040, NOVO HAMBURGO, RS 93.511-970 BRAZIL