Published on November 16, 2020
Click here to view this newsletter as a PDF.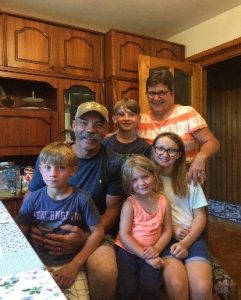 Hello family and friends! We hope that this newsletter finds you well! We would love to update you on our mission preparations and share about God's faithfulness in the journey. We had the blessing of connecting with Vern and Gloria a couple times while they were home on furlough, and we were reminiscing and sharing memories of serving together in Romania! We are so glad to hear they made it back safely and that they are with the team and back at Camp Falcon Rock. We hope to join them this spring!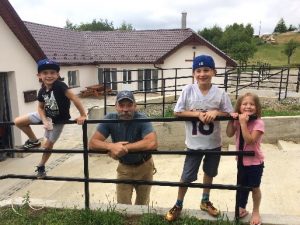 Dani is scaling the walls at an indoor climbing facility and, well, this is a little bit like what fundraising has felt like these days. We knew that fundraising in this unique season would be a challenge, and indeed it has been an uphill battle, BUT God continues to encourage us one ministry partner at a time and we are SO thankful for the awesome support team that He is building.
Throughout the summer and into the fall, God has really been reminding us of His provision of our daily bread. Jesus teaches us to pray, "Give us this day our daily bread" (Matthew 6:11). Perhaps a call to ask the Lord to provide the sustenance to take the opportunities in our day to bring Him glory, share His love with others, and to "keep in step with the Spirit" (Galatians 5:25b).We are continuing to be reminded that as much as this season is preparation for the mission field God also has purpose for us today. God wants to commune with us, for us to enjoy Him, to praise Him, to invest in His Kingdom, and to make us more like Him TODAY. His purposes are not just once we are on the ground in Romania or when COVID is over or when we finally have it all together (which we never will)! We are thankful that God has good purposes for each day, and we pray that we might faithfully walk in them!
We have been participating in mission conferences, presenting at churches, homeschooling, and continuing to press into learning the Hungarian language. Jason has been fixing up the house as we prepare to sell in the new year. We are currently at 30 percent of our funding; like we've mentioned before, we will need 90 percent to be able to go in the springtime. Please pray alongside of us that God would continue to lay the work of Camp Falcon Rock on people's hearts and a desire to invest in the ministry.
A very exciting new development and a provision clearly from the LORD has been someone offering to help our family the first couple years on the field, to mentor us and to homeschool our children!!! This provision has blown us away and is a very real reminder that the Lord knows our needs! This is something that we didn't even pray for or ask for but the Lord has graciously provided this gift. Praise the Lord for His Father heart and His goodness!
Thank you for taking time to hear our update! We love you!
Jason & Erin Bergman
---
Prayer
For God to continue providing partners in our ministry.
For the preparations of selling our house (hopefully just after Christmas).
For a meaningful Christmas with friends and family.
Praises
Paul Gericke's back surgery in Germany went well, and he is back in Romania recovering.
God is continuing to pave the way for our family to move overseas to Romania.
We have had the privilege to participate in mission conferences this last month.
Our Father in heaven, hallowed be your name, your kingdom come, your will be done, on earth as it is in heaven. Give us today our daily bread. And forgive us our debts, as we also have forgiven our debtors. And lead us not into temptation, but deliver us from the evil one.
MATTHEW 6:9–13 (NIV)
---
4720 143 Street NW, Edmonton, ab, t6h4c8, canada
bergmans.romania@gmail.com