Published on November 23, 2020
Click here to view this newsletter as a PDF.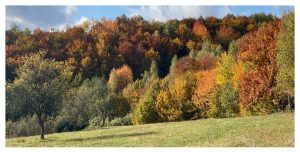 We praise God for a safe return to Romania – we felt a sense of peace as we sought God's direction for our return to Camp Falcon Rock. We arrived here on October 23. It is great to be settled here again, and another plus is that we get to enjoy fall. The colours here are amazing
.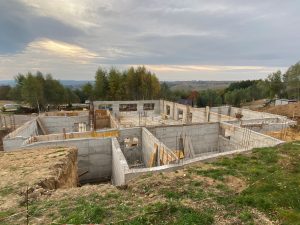 Construction has carried on while we were away – they have poured the bottom foundation for the main lodge, and they are starting to back fill. Seeing this building in person shows us how huge this building is – we can't wait to hear the laughter and conversations from the campers. This main lodge is going to be a real asset to camp.
The roof has been put on the root cellar project. Work will continue this winter. Oh the view! A great place to have cup of coffee and take it all in.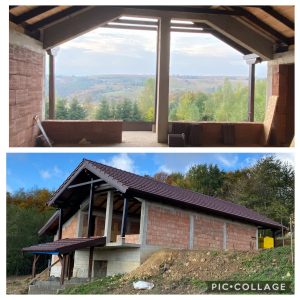 Vern has been tackling the wood pile to get our supply for the winter months.
We are so thankful for how God has provided health and safety for the workers here. We look forward to continuing our work here at Camp Falcon Rock to see the Kingdom being built.
We are here because of each of you – thank you for your prayers and support.
---
Prayer
Construction and funding of the Main Lodge.
Our families in Alberta.
Bergman family as they raise support to join us at Camp Falcon Rock.
Praises
We arrived safely in Romania.
You have searched me, Lord and you know me. You know when I sit and when I rise; you perceive my thoughts from afar. You discern my going out and my lying down; you are familiar with all my ways. Before a word is on my tongue you, Lord, know it completely. You hem me in behind and before, and you lay your hand upon me. Such knowledge is too wonderful for me, too lofty for me to attain. Where can I go from your Spirit? Where can I flee from your presence? If I go up to the heavens, you are there; if I make my bed in the depths, you are there. If I rise on the wings of the dawn, if I settle on the far side of the sea, even there your hand will guide me, your right hand will hold me fast. If I say, "Surely the darkness will hide me and the light become night around me," even the darkness will not be dark to you; the night will shine like the day, for darkness is as light to you.
psalm 139:1–12 (NIV)
Blessings,
Vern & Gloria Wagner
1219 pleasant grove blvd., roseville, california, 95678, united states
vgwagner@gmail.com | rootsinromania.com nabonmission.org/missionaries/vern-and-gloria-wagner/