Published on February 17, 2020
Click here to view this newsletter as a PDF.
How do you feel when you find out that you are part of something much bigger than you alone, or even you and the group you are in? For most of us, it is very encouraging to know what we are involved in is repeated across the country and even around the world.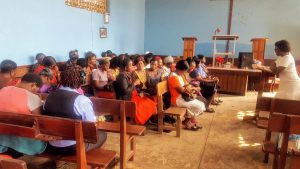 Thursday, February 6, was the Baptist World Alliance of Africa's Women's Day of Prayer. The women of Mbingo I Baptist Church participated, led by Dr. Francine Kouya (the hospital's oncologist). We divided into small groups and prayed for both local requests and for the prayer requests from various African countries. Then we came together for the closing prayer. What a joy it was to join in prayer with women across Africa to pray for each other.
The church's women's group annual retreat on Sunday, February 2, was another recent time of prayer together. In addition to a plenary prayer session and two Bible lessons, we drew prayer partners and had time to get acquainted and pray for each other, our families, country and leaders.
Prayer Requests
For our four new internal medicine residents: good adjustments to our rural setting, long hours of work and study, increase in medical knowledge, and spiritual growth
Continued safety for our hospital staff and patients during this political crisis
Praises
Religious freedom to worship and pray in public
Relative quiet during recent elections and national holiday
"I urge . . . that petitions, prayers, intercession and thanksgiving be made for everyone. This is good, and pleases God our Savior, who wants all people to be saved and to come to a knowledge of the truth." I Timothy 2:1, 3, 4
World Leprosy Day
The last Sunday of January is World Leprosy Day. It is always observed at Mbingo because the hospital was first established as a leprosy settlement. Leprosy, now called Hansen's disease, has nearly been eradicated in Cameroon. Mbingo Baptist Hospital which oversees treatment of all patients in the Northwest Region, receives only about five new patients annually. Today, Hanson's disease can be cured in 6 months to two years, but in the 1950s, it was much more difficult.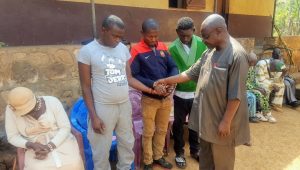 Following a long tradition at the hospital, a celebratory "discharge day" is held on World Leprosy Day each year. More recently, we also added "graduation" for those who have completed occupational training under our "Community-Based Rehabilitation" program. This year, the celebration was held at New Hope Village, a settlement at the edge of hospital land where former Hanson's disease patients live. Four patients were formally discharged (two had already gone home and couldn't return for the ceremony) and one young man (left in the photo) graduated with a certificate in shoe repair and manufacturing.
Our head hospital chaplain, Rev. Dr. Ephesians Nfor prayed for the three young men during the celebration.
White Coat Ceremony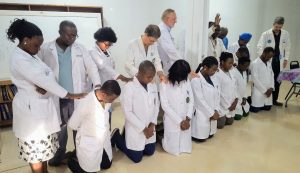 With the presentation of new white lab coats with their names and department logos, the new surgery and internal medicine trainees were officially inducted into the new status of "resident" on January 23. They recited together the Christian Physicians' Oath and were given a challenge by a faculty member.
At the end of the ceremony, a faculty member stood behind each new resident while the head chaplain gave a prayer of commitment for them.
We trust that these examples of special times of prayer in our lives this past month will also encourage you as you continue to pray for us.
Thank you for your partnership!
Dennis & Nancy Palmer