Published on May 19, 2020
Click here to view this newsletter as a PDF.
Prayer
God's wisdom in how to move forward during quarantine for preparing to go to Japan.
Work for Sylvia during the interim period.
Praises
A healthy baby boy was born to our daughter Allie and her husband, Clay: Jeremiah Kevin Rasmussen on April 17.
God is raising support for us even during such a quiet time of waiting.
Trust in the Lord with all your heart
and lean not on your own understanding;
in all your ways submit to him,
and he will make your paths straight.
Proverbs 3:5–6 (NIV)
It is a privilege to share with you all what God is doing in this time of sequestering and preparation for His call to Japan.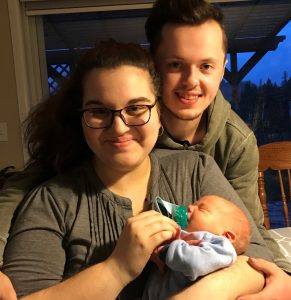 When the instructions came to quarantine in mid-March, Sylvia and our oldest daughter (Allie) were in Kelowna, British Columbia, about 5 hours away from home awaiting the birth of her first baby. Her husband was working in America (just across the border) and had to stay at home for 14 days. As God would unfold His perfect timing, baby Jeremiah waited another 4 weeks to come, and his daddy could be present for this wonderful occasion. Being grandparents for the first time is a wonderful place to be in life. We get all the cuddles without all the sleepless nights.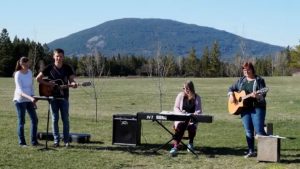 We live out on 20 acres of beautiful fields surrounded by mountains, so it seemed only natural to invite our pastor and some other people from the worship team to start filming the preaching and worship time in our backyard. Only God could make such a fabulous back drop for worship.
Raff has helped in bible readings in the call to worship, and Sylvia has been using her musical gifts to lead the team in worship.
We also reconnected with a small group that we used to host in our home of English speakers in Israel. So we meet with them through Zoom weekly.
Sylvia leads a few songs in Hebrew and English from the piano, and then different people from the group take turns leading a short teaching. The best part is praying together across the ocean. What a privilege that God hears our prayer no matter where we are.
During homeschooling, our boys have been learning Japanese, and it is wonderful to hear them point out words in this new language (well, new to us).
Little by little we have seen God provide some partners for our ministry in Japan. Our home congregation and another couple from it have become long-term supporters. As well, Yuri Nakano shared with us that one of her supporting churches took up an offering for our start-up costs. This is a great encouragement to us as we have been able to do little practically except pray and share via the internet.
We are not sure when borders will open up again internationally and even in our own nation provincially. We don't know when we will be able to visit churches and share about this call that God has given us. We don't know how much freedom will remain once certain restrictions are lifted.
But this we do know. That our Redeemer is faithful and true, and all His promises are yes and amen in Christ Jesus. We know He will never leave us or forsake us, and we can truly trust in Him at all times.
Raffaele & Sylvia Gaudio
rafa.sylv7@gmail.com | (250) 428-7769
nabonmission.org/missionaries/raffaele-sylvia-gaudio
Ways to Give to the Gaudios Start-up Fund