Published on May 20, 2021
Click here to view this newsletter as a PDF.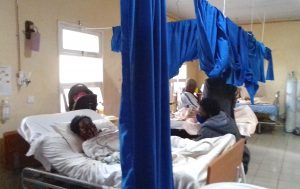 The risk of contracting COVID‑19 in Cameroon was officially raised to a RED, or Level 4, status in April. This correlates to the rising numbers of cases presenting to the hospital and an isolation ward which has been at capacity for the past two months. For awhile our testing capability was sufficient to allow screening of all patients for admission. This insured that those with SARS-CoV-2 were assigned to Isolation Ward, while uninfected patients were directed to the general wards. Unfortunately, that benefit was short-lived. Over a month ago, the hospital ran out sufficient numbers of test kits to support mass screening. This relegated us to testing only individuals suspected of having SARS-CoV-2, meaning that invariably some infected patients with minimal or no symptoms were admitted to the general wards.
While we routinely wore masks and respected hand-washing measures, PPE (Personal Protective Equipment) was only available to those working with known COVID‑19 patients on Isolation Ward. Not surprisingly, some of our doctors started to develop symptoms and were confirmed positive for the infection. In mid-April, I was the third such doc to succumb to this virus.
Initially believing my symptoms were due to one of the myriad of other viruses, I waited until after rounds to go to the COVID‑19 lab to see if we had testing capability. On rare occasions the hospital has run out of antigen test kits altogether. The tech had some eight kits remaining and agreed to test me. To my surprise, the test was positive. I collected my things, notified the faculty, and returned home to isolate.
The symptoms of fever, headache, myalgias, and cough waxed and waned for about six days. When finally they abated, faculty was notified that I expected to be back to work on April 22. However, a day prior to the expected return, I developed a horrendous rash – which amounted to disseminated raised red welts, which were extremely pruritic. Shocked at this late development, I surmised this was a new disease. That's when my thoughts drifted to a rat that had entered the house some two weeks previously. . .
One morning in early April, as I opened the door to depart for the hospital, a large rat – which had been sitting at the front door – helped himself right into the house! Running back inside, I saw that he had gone into the parlor. Frantic, I ran to find a glue mousetrap, which was strategically set out for this rather substantial rodent. However, I had to go to work and left reluctantly – knowing that this critter was loose in the house. During our morning session and subsequent faculty meeting, all I could think was, "There's a rat in my flat!" I begged The Lord to help me get rid of it. Confiding my anxiety to a staff member, she mentioned that rats are very destructive and had chewed her children's mattresses. I petitioned The Lord all the more.
Seizing the first possible opportunity to run home that morning, I first took note of the mousetrap: No rat! I proceeded to look in all the hiding places: beneath the bed, dresser, desk, bookcase, stove, fridge. The rodent wasn't to be found. Yet he was too big to hide conveniently. Where was he? On glancing across the parlor, I noticed a peculiarity in my grandmother's afghan draped across the back of the couch. It was no longer lying flat. Rather, there was a significant "hump" to one side. Approaching it, I saw the hump move and thought, "It must be the rat!" Carefully gathering the afghan from both ends, I swept it off the couch with what was inside squirming just enough to reveal the rat! Running outside with him in the afghan, I threw it open in a field, where the rat scampered away. A huge relief to be sure! I was exceedingly grateful to The Lord! The afghan was washed and placed back on its perch.
With the advent of this rash some two weeks later, I wondered if the rat had left some other unwelcome guests: lice, fleas, ticks. This led to a mental review of rodent-borne diseases. A visiting doc from US (who was vaccinated against COVID‑19 prior to his arrival here) subsequently came to have a look at the rash. He was convinced it was a sequela of the coronavirus. That was strangely reassuring as the thought of having a second disease wasn't too comforting. As predicted, in a matter of days the rash and itching gradually subsided. It was possible to return to work the last week of April. However, since that time, two additional doctors have fallen ill along with Chaplain Njobara – who had faithfully been caring for those on Isolation Ward. The chaplain took great joy in working with our COVID patients and longs to return to them – just as soon as he recovers.
Julie Stone