Published on November 14, 2018
Click here to view this newsletter as a PDF.
Dear Family and Friends,
Greetings from hot and sunny Cameroon! It's near the end of rainy season, and we are up north, in Banyo, with much warmer temperatures than our home in Ndu.
We have been out of the country for the past 5 weeks, in a F*lbe community in Nigeria, getting to know the rhythms of life in a small village (very early mornings, I can tell you). My main task there was teaching during morning devotionals – each morning at 5:15 am – and at the weekly worship service on Wednesdays (because Sunday is market day). Sonya was struggling with serious nighttime allergy/asthma issues, so only made the early devotions a few times, plus Wednesday worship. But she and I made regular visits to all the (25 or so) compounds in the village. We are now able to greet fairly proficiently in F*lfulde and can make ourselves understood in some simple sentences when we really put our minds to it.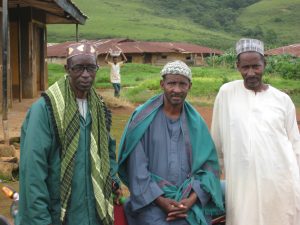 The highlight of this time for me came when we travelled to a nearby community to check out their water project. I had been here in July, discovering a broken pipeline that had not been repaired, which meant the women and children were back to fetching water at a dirty stream. The M*slim men there confessed they were "lazy" and assured us they would have it fixed. When we returned this time, we found that the pipeline still had not been fixed, and there were moreextravagant promises to go with their confessions of laziness. Because I am a white North American, I was able to preach to them in a way that their F*lbe brethren cannot, so this time I did not worry about the niceties of the culture, but spoke very directly to them. Their lack of attention to the water is simply a symptom of a much deeper issue they have regarding the condition of their heart, and their need for Jesus. They were sorely touched by the message, so we will see in time what positive effect it might have.
Sonya, meanwhile, has been nomadic for some time now. Returning from summer in Canada, she had a couple of weeks to acclimatize, do some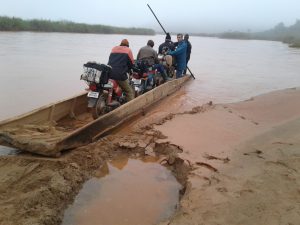 work for women's department courses she is hoping to come back to, and pack (again) for Nigeria.
Our mode of transport unexpectedly changed from truck to motorcycle, so a lot of things we had hoped to take in to Nigeria with us, got left behind in Banyo, and there have been more than a few moments of "I thought I packed that…." As I promised her, the scenery along the motorcycle route is far more spectacular than the car route, and it was definitely what she called a 'most excellent adventure,' although there were a few moments we could have done without (like having to cross the river by moonlight, after the previous 'ferry' load tipped during landing).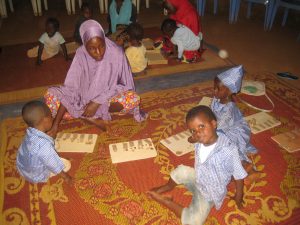 After settling in, Sonya also found joy in visiting the primary school, trying to communicate with children with minimal English, plus brainstorming with the teachers and headmaster regarding some challenges the school is facing, and most surprisingly to her, to help them launch a trial nursery school with a few unemployed young women as a solution to one of those problems. She is also providing administrative assistance to the leadership for the launch of their medical team, planned for early 2019, some of which their newly graduated doctor will work on when he arrives and some procedural items needed to meet the requirements of international partners. One unexpected benefit was the need to travel to Gembu a few times, which enabled her to see a few old friends and to make friends with the directors of GECHAAN, Dan and Tina Gibbs. This is her first time back since 2009, so these trips were a treat for her (except the 2-hour taxi ride each way).
Finally, after the election, and 2 weeks awaiting the official results, we got the green light to reenter Cameroon. We had hoped to head straight backto Ndu, where our classes await. That hope will be indefinitely deferred, however, since we discovered that Ndu – and even getting to Ndu on the roads – is not safe or wise at present. The separatists continue to clash with government forces, and bullets do not normally distinguish between combatants and civilians. So we have been given the title of "Internally Displaced Persons," since we are still in the country, but unable to live in our actual home.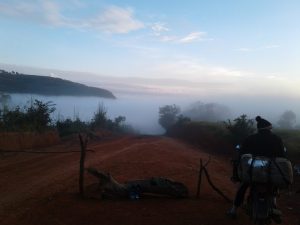 For now, therefore, we will be living (out of our suitcases still) in a former missionary house in Banyo and seeking ministry opportunities while we are up here (plus trying to get our financial and administrative lives in order). Sonya will be the first to tell you that living out of a suitcase is overrated, evidenced by the fact the she completely moved all her clothes, etc., out of her bags into the closets in the Lokker house ASAP. But compared to the trauma that an estimated 300,000 displaced Cameroonians are facing, our issues are merely inconveniences. There have been many deaths, destruction of property, etc., throughout the country, but particularly in the Northwest and Southwest Anglophone region. Please follow this link to see how you can help. https://nabconference.org/give/cameroon-crisis-relief/ You can give online, by text, or by cheque.
We'll be travelling to a F*lbe meeting and visit one other community this week, then will be back here to see what events transpire. Please continue to pray for us and for peace and stability to return to Cameroon.
In HIM,
Jeff & Sonya